We've whipped up a packed summer blockbuster - faster MS Exchange recovery with the ease that you're used to in Outlook, the ability to restore public channels in MS Teams, and improved access control with IP address restrictions. Also, we've expanded to a new data center in France.
Is there a feature you'd love to see? Request it Here!
Bonjour! New Data Center in France
We're pleased to announce the addition of the Amazon AWS Data Center in Paris, France, to our selection of cloud backup data centers. The ability to choose from a wide range of data centers helps our customers comply with local data sovereignty laws that regulate the physical location and movement of data. The new DC is especially pertinent given France's data sovereignty laws. In addition to Paris, we also offer European DCs in Dublin and Frankfurt, as well as DCs in the UK, US, Canada and Australia.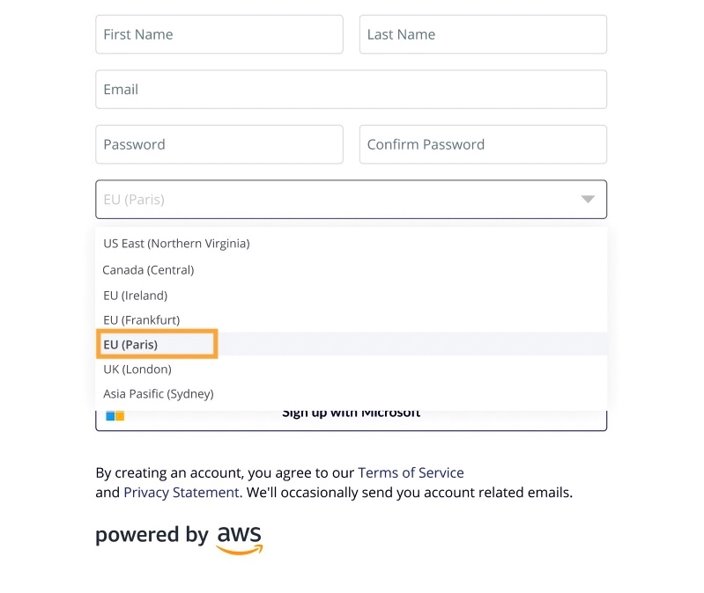 Find and Recover Your Lost Exchange Artifact in a Few Clicks

– Next-gen UX
Is finding your lost email or contact like looking for a needle in a backup haystack? CloudAlly's next-gen Exchange recovery UI is modelled after Outlook itself. Find and recover what you are looking for in a couple of clicks! After all, a backup solution is only as good as its ease of recovery.​
Scan through your CloudAlly Exchange backup with the same ease as you do with Outlook. ​
Simply select the Exchange artifact type - Email,

Contact, Calendar, Task, or Note and browse

through the content in an Outlook-like folder

hierarchy.

​

Choose the item(s) you want to recover and click

"Restore" or "Export"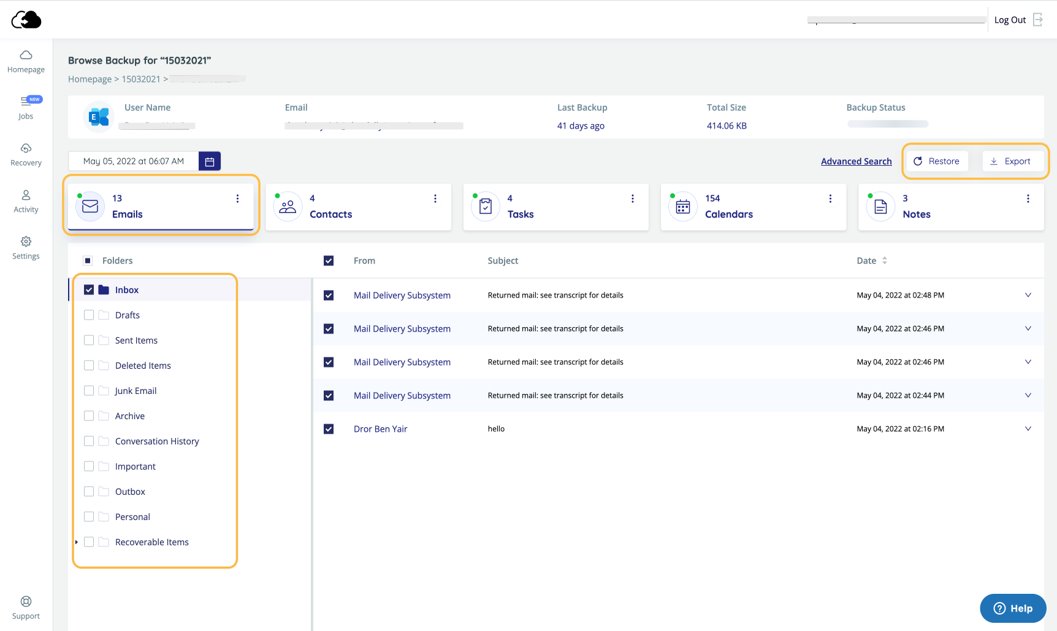 Restore Public Channels in M365 Groups & Teams
CloudAlly was amongst the first backup providers to include comprehensive Teams backup (channels, calendars, conversations, and metadata) as a part of our Microsoft 365 Backup. We've now extended it further to include in-place restore for a specific channel within a Team.​
Select the specific Channel that you want to restore for an in-place non-destructive restore of the entire Channel.

​

This includes the metadata (name, settings, owners, members, etc.), posts, files and tabs (including application data).

​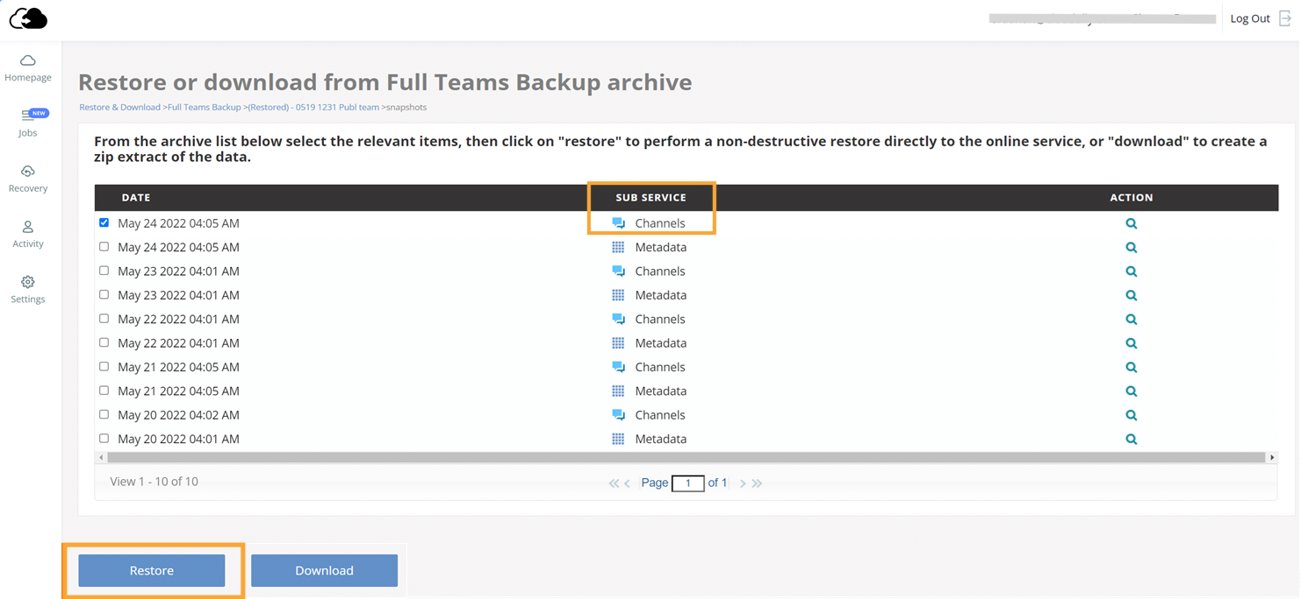 Partner Special: Improve

Access Control with IP Address Restrictions
Need fine-grained access control to your backups? Our Partners can now restrict access to the Partner Portal based on the users' IP address. This is especially helpful to enforce security policies and prevent unauthorized access by limiting backup/restore requests to company-approved IP addresses such as an office IP or to a particular VPN.
Watch How:
​
Simply create an approved list of trusted IP addresses, and block anyone trying to log in using any other address.

​

You can restrict both individual IP addresses, as well as a range of addresses.

​
​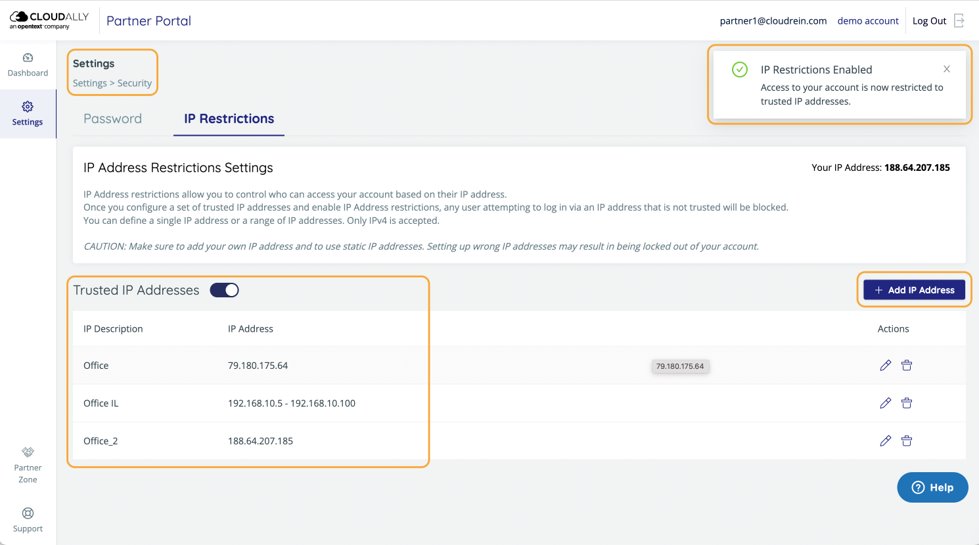 Optimize your Microsoft 365 Budget With Our Marketplace Listing
You can now buy CloudAlly Backup directly on Microsoft Marketplace using your Marketplace account. Optimize your Microsoft budget quota with a comprehensive all-in-one backup solution for Microsoft 365, Salesforce, Google Workspace, Box, and Dropbox directly from Marketplace.
​​
​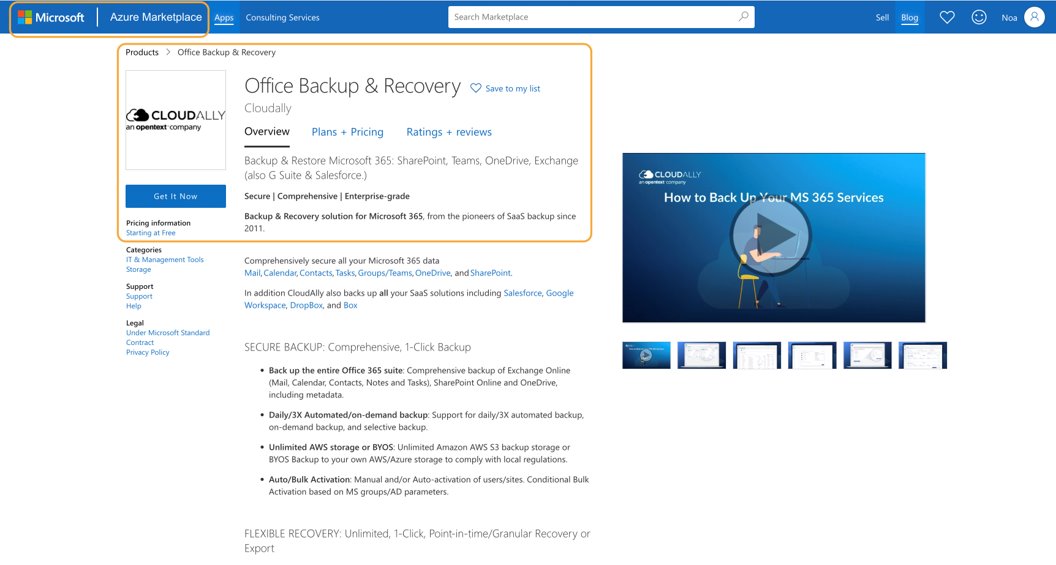 Is there a feature you'd love to see? Request it Here!
Always eager to know your Questions or Comments - Share your thoughts