DOWNLOAD PDF
Current version: CE 23.2.1 - June, 2023
Preface
Thank you for selecting CloudAlly Backup for Complete Microsoft 365. Relax! All your Microsoft 365 data is now securely protected with easy recovery from data loss. CloudAlly comprehensively backs up your Complete Microsoft 365 data on industry-leading AWS S3 storage. Our product's ethos is to provide feature-rich backup and recovery with security, ease of use, and flexibility woven in.
This guide is organized to help you find the information you need to manage CloudAlly Backup for Complete Microsoft 365. This guide explains how you can set up an account and activate Microsoft 365 backup in three basic steps:
For Further Information:
This is a short Quick Start Guide. For a full description of our Backup and Recovery services, please see our Online and PDF User Guides.
If you prefer visual explanations, there are many helpful CloudAlly videos on our Youtube Channel:
Creating and Accessing Your CloudAlly Account
Sign Up/Sign In from the CloudAlly Home Page
Log in to Cloudally.com.
Click

Free Trial

. Complete the form, and click

Submit

.
Your trial account is created, and an email containing your activation link is sent to your email address. Click on the activation link contained in the email you received to activate your account. If you sign up with Google or Microsoft, the activation link will not be sent to you.
Once your account is activated, you are redirected to the

CloudAlly

login page. Enter your email address and password, and click

Sign In

to access your account.
Backing Up Your
Complete Microsoft 365

Data

With a few simple clicks, you can activate backups for all of the Microsoft 365 services.
Creating New Backup Tasks
To create new backup tasks for all your Microsoft 365 services:
Sign in to your Account, or if you are already signed in, click the

Homepage

option in the Navigation Panel.
On the Homepage, click

+ Add Backup Task

.
Click

Complete Microsoft 365.

The

Create New Backup Task

page is displayed.
By default, all of the Microsoft 365 services are selected. Use the toggle switch if you would like to deselect any of them.
Click

Authenticate

, and select the Microsoft Admin account you would like to use to create the tasks.
Note: The user that you enter must have Global Admin permissions.
The first time, the system will ask you to provide read and write access to your Microsoft tenant.
Fill in the backup name (e.g., CompanyName, or John Doe), which will be appended to the service name of each of the backup tasks (e.g., CompanyName_Exchange, CompanyName_SharePoint.)
Select whether you would like to activate all entities (Exchange mailboxes, SharePoint sites, OneDrive sites, and Groups & Teams) for all backup tasks, or if you prefer to selectively activate only certain entities per task.
Select whether you want to use the default settings for these options, or if you prefer to customize these settings:

Backup frequency (default: daily)
Backup unlicensed Exchange accounts (default: yes)
Automatically activate new entities (default: yes)
Retain auto-archived backups indefinitely (default: yes).

Review the summary of the number of entities in your new tasks, and click

Confirm

.
Your backup tasks have been created and activated! They will run at the scheduled time that you selected.
Modifying an Existing Backup Task
Once you created and activated your tasks, there is no need to configure them further. But if you would like to change a backup task setting after you finished the initial setup, it is easy to do so.
Note: The Microsoft Exchange configuration screen is shown below, but all of the Microsoft 365 services are very similar.
Click the settings icon

on the top right side of the screen.

You can change the name of the backup task by clicking .
The icon to the right of the

Complete Microsoft 365

logo displays whether the application was able to connect to the specified account. If the authentication token granted for the application becomes invalid (e.g., it expires due to inactivity because you put the backup task on pause for a long time), the green Connected icon changes to the red Disconnected. To grant the application a new token, click on the icon to open the authentication dialog, and repeat the authentication process.
By default, the "Index all data for Search" option is selected, which enables

CloudAlly

to provide you with its granular search and restore functionality. In the process, your data is temporarily decrypted for a brief period of time, and then re-encrypted once the index is built. If this goes against your company policy and you would like to disable automatic indexing, please contact

support@cloudally.com

.
In the Microsoft Exchange system, accounts can have an "Unlicensed" status (not to be confused with "Unlicensed product"). These can be the external accounts invited by users with an active license, accounts automatically generated for shared file storage, etc. You can find the license status of an account using the Admin Center. Check

Backup Unlicensed accounts

if you want

CloudAlly

to back up such accounts.
Backups are automatically archived when an entire site is deleted. The

Retain auto-archived backups

option allows you to retain them for a specified number of days, after which they will be deleted. Otherwise, the backups will be retained indefinitely.
The Automatically activate new mailboxes option instructs the system to detect new mailboxes, and begin backing them up automatically.
The

Backup Data Center

field displays the Data Center location you selected when you signed up with your registration. You cannot change this after your initial selection, but you can contact Support if you need it to be changed.

The

Retention Period

field displays whether a retention period has been set up. By default, we provide unlimited retention of your daily backups for as long as you maintain your account subscription. You can override this default and specify a retention period in days, months, or years by submitting a support ticket. Backups older than the retention period specified will be automatically deleted.
Backup Frequency and Backup Hour

Click the drop-down list adjacent to the

Backup Frequency

field and select how often you would like the backups to occur. The default is daily, but more frequent backups are possible by submitting a support request via chat, ticket or email.
Click the drop-down list adjacent to the

Backup Hour (UTC)

field and select the backup hour. Click

Save

.
Managing Your Account
User Management
The page provides tools for fine-level control of the permissions and access levels of your users.

Click + Add new user to create a new user and start the configuration procedure for that user, or the pencil icon to edit an existing user's settings. The settings include the operations permitted to the user and the list of available services:
Note: Selecting the role "Administrator" enables permissions to all services and operations. This should not be selected for regular users.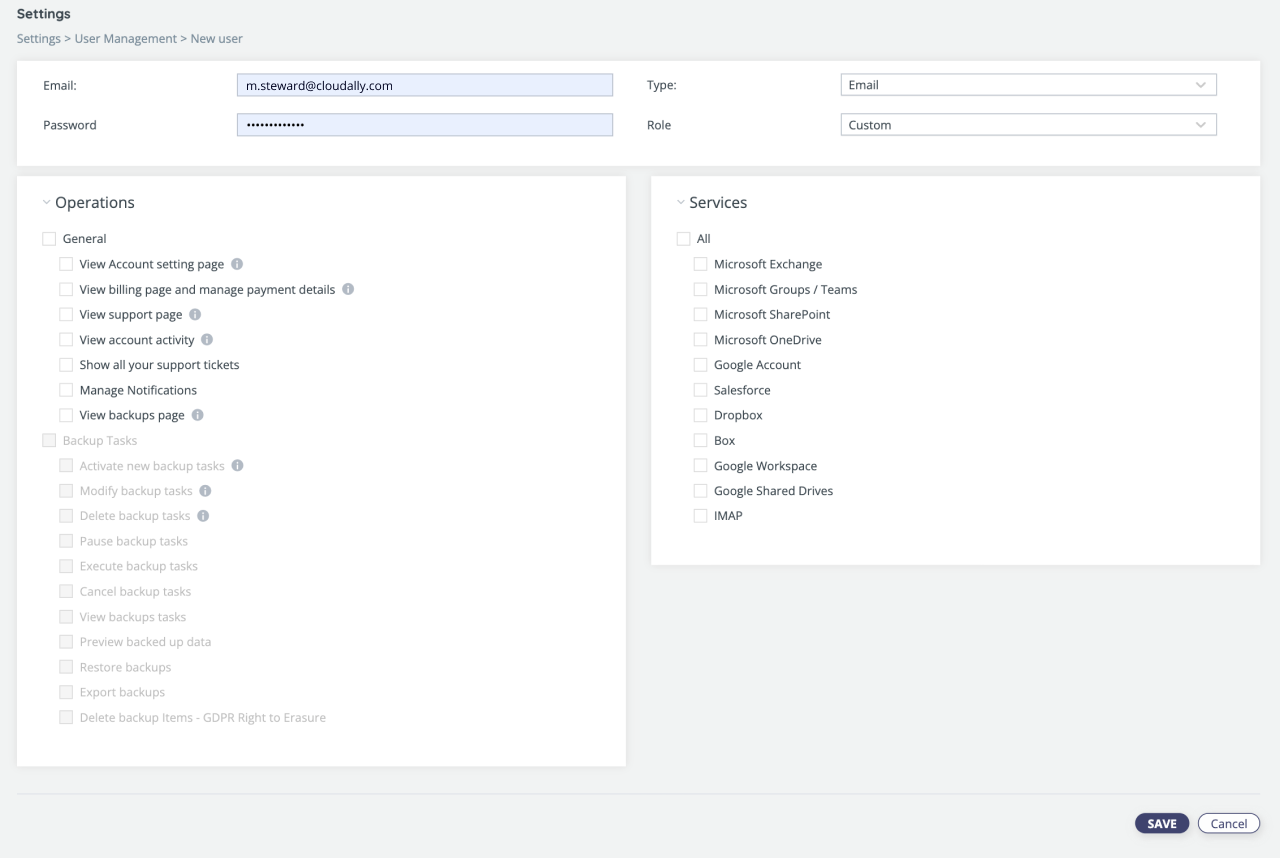 To save changes, scroll to the bottom of the page and click SAVE.
Notifications Settings
This menu option enables you to manage your system notifications.
From the Navigation Panel, click Settings > Notifications.
The following screen will appear: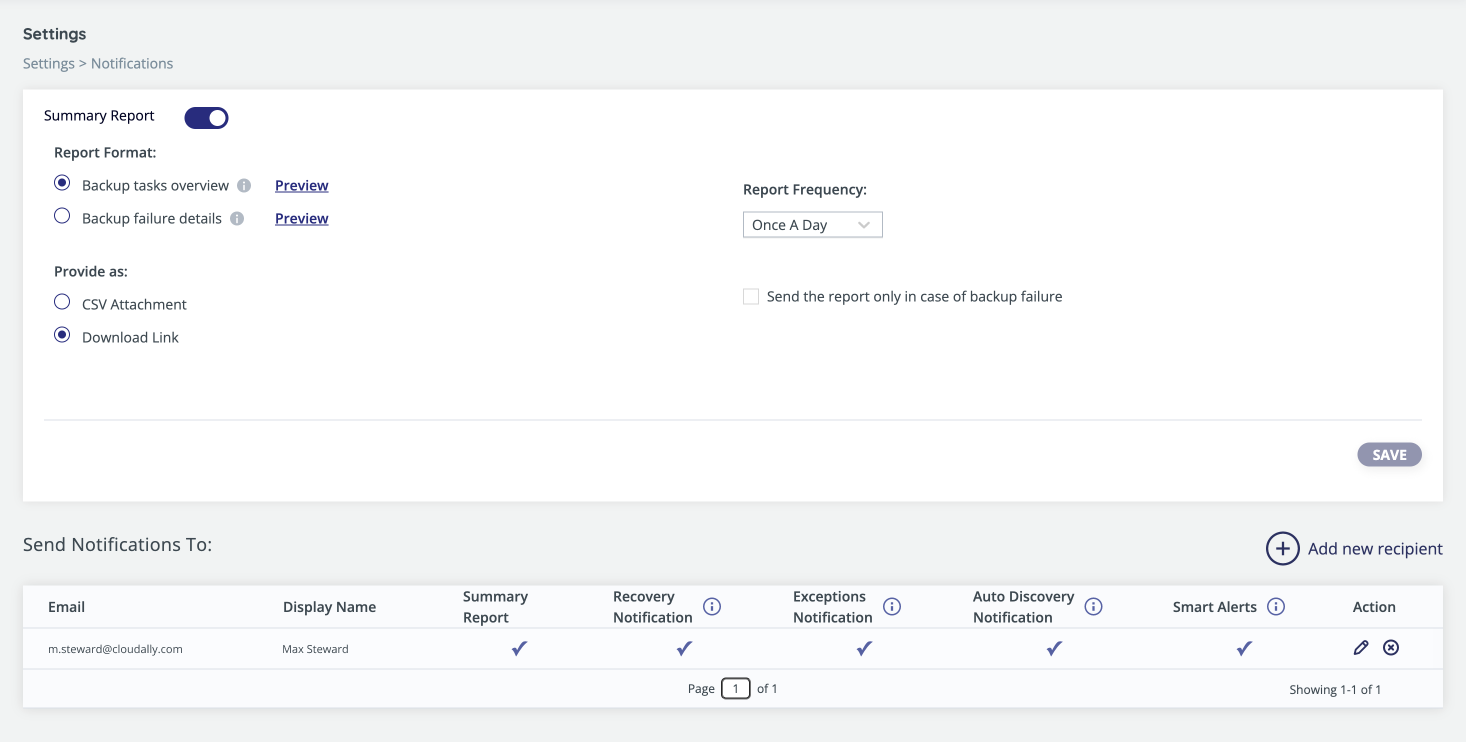 The top of the screen enables you to configure the following options:
Report Format: Backup tasks overview vs. backup failure details
CSV Attachment vs. Download Link
Report Frequency: daily, weekly or monthly
Send the report only in case of backup failure
To set up a new recipient:
Click

+ Add new recipient

.
Enter the Email of the recipient and the Display name. The Display name is used in the report email to address the recipient.
Select the desired notification types:

Summary Report
Recovery Notification
Exceptions Notification
Auto Discovery Notification
Smart Alerts (for Salesforce only)

Click

SAVE

to create the new recipient. You may need to scroll to the bottom of the page to find

SAVE

.