Need to restore Salesforce reports, dashboards, or workflows? Recover Salesforce objects of your choice with a granular restore of all root metadata types available via the API. After the restore, you receive a detailed email report of the metadata recovery status.​
It's a two-step process:
open a list of objects




select one or more metadata types and click the Restore button
Opening the objects list
Log in to your CloudAlly account and click Recovery.






Click the Salesforce backup task you want to open.






Click Continue to display a list of all backups.




- Use the drop-down menus to find a specific backup based on a date range. (optional)






Locate the backup and click the Action icon to open the Object list.




Selecting a metadata type
The list displays data and metadata objects.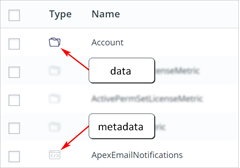 Use the Search tool if you know the name of the metadata object you want to restore.





To filter the list and limit the display to metadata types, click the

Object Type

drop-down menu and check the Metadata box. (optional)





Check the box next to the metadata types to restore, click the Action button, and select Restore.





Click Yes in the confirmation window


.
CloudAlly schedules the restoration.
Scroll down to the log to check the status. It changes to Ready when the backup restoration completes